31 more photos
Matryoshka, vodka, balalaika…
Forget this! We will show you the real Russia, wild and frozen.
During this trip you will explore the wonderland of Baikal Ice. This world of perfect purity, fancy ice formations, frozen bubbles and unforgettable experiences.
ATV tour, ice floe rafting, sacred Ogoy island, Olkhon island, Peschanaya bay, Listvyanka – you will discover half of the lake in one go!
Ice vacation on Lake Baikal in February and March is just a blast of bright impressions and emotions!
What's included in the price?
Dates
Any dates on individual request
group dates

6 Feb – 11 Feb
8 Feb – 13 Feb
11 Feb – 16 Feb
Complexity
Without exercise
Main impressions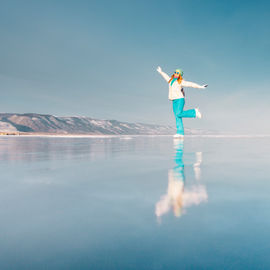 Ice of Baikal
Visit the largest ice rink in the world!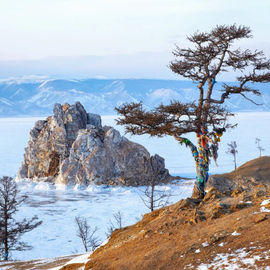 Olkhon island
Visit the only and magical island on Baikal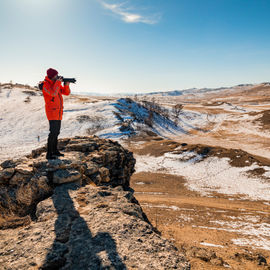 Tazheran steppes
Visit an unique place where the first local people lived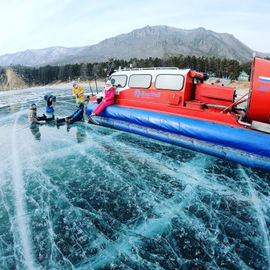 TRECOL
Moving on special vehicle which is able to move on water, ground and ice
Route
Day 1 — Welcome to Baikal!

Welcome to Siberia!

The general meeting of the group and departure is scheduled for 10:00, so please purchase tickets for flights arriving in Irkutsk before 9:30 local time. Your Baikal guide will meet you at the airport. Landing in a comfortable minibus and departure to the cherished goal - Lake Baikal.

Along the way you will see famous spiritual Tazheran steppes.

For lunch you will try traditional Buryat cuisine: real «buuzy», «buchler» and Buryats tea!

After midday you will arrive to Baikal lake. You are waited by the first departure on ice on completely safe all-terrain vehicle – TRECOL (which means "TRansport ECOLogical")! It is able to move on water, ground and ice, so transfers are completely safe for passengers and ecology and officially allowed which is our exclusive offer in region!

In addition to its driving characteristics, this transport looks very impressive, and the photos on its background are amazing!

In the evening you will have free time. You can walk on the ice on foot or go ice-skating. Have a good, memorable and impressive time!

Meals: lunch and dinner included.

3 more photos

Day 2 — Picnic on the ice of Baikal and the Ogoy Island

Good morning! The endless beauty of Baikal ice and new experiences await you today.

As the day begins you will visit the Buddhist stupa of Enlightenment on the Ogoy Island.

On the way there will be stops in the most interesting places for exploring grottoes and splashes, incredible caves with ice stalactites. Picnic right on the ice of Lake Baikal as lunch. Today's menu is a hot smoked fish, saguday and tincture on cedar nuts, as well as a local delicacy - raskolotka from Baikal fish (cooking class included).

After lunch you will enjoy lots of ice entertainment: ice caves exploring, ice golf, secret local anti-stress, and dedication to ice travelers!

Late in the afternoon you will move to the guesthouse. Supper while sharing impressions and speaking tomorrow plans.

Meals: Breakfast, lunch and dinner included.

5 more photos

Day 3 — Baikal landscapes

You will go South today. The day will be eventful! Your route is from Maloe More to Buguldeika village by sacral Tazherany steppes. You will visit the Shebety mount near Ust Anga settlement, which has fascinating view to Lake Baikal and Primorskiy mountain ridge!

For outdoor lunch you will taste the venison dumplings.

In the evening you will arrive to Buguldeika village. Placement in house in the heart of the snow-covered taiga, "Talovskoye" eco-centre.

Meals: Breakfast, lunch and dinner included.

6 more photos

Day 4 — Visiting remote bays and capes

Baikal ice travel continues. After breakfast you will see the pure ice of Baikal again. On this day you will have a ride by a hovercraft from Buguldeika village to Listvyanka settlement.

You will see beautiful and famous places of Baikal - Arch cape, popular but hard-to-get Peschanaya bay. You will also visit the Screeper cliff and the Devil's Bridge. These places are famous for their pristine ice and ice bubbles, you can make some great photo shots there!

In the evening you will arrive to Listvyanka.

Meals: Breakfast, lunch are included. Dinner in the hotel restaurant is not included.

4 more photos

Day 5 — Listvyanka sights and ice floating

After so many active days you will have a little rest. After breakfast you will visit the observation platform of "Cherskiy rock". A chairlift will bring you up the hill. There you will enjoy a great view of Lake Baikal and the Angara river.

Then you will get acquainted with all the inhabitants of Lake Baikal in huge aquariums of Baikal Museum. After the Museum there will be meeting with real Siberian riding dogs! Emotion from communication with animals will be an excellent addition to the program of the day.

After lunch in the restaurant you will go to the Angara river outflow where you will ride a real ice floe!
Stop, stop, stop! No worries! This is safe and our company has already done it many times over the past 9 years.

The fact is the thickness of the ice on Lake Baikal reaches 1 meter in February and March. Ice is able to withstand a truck! But there is one place where you can find open water on the Baikal surface - the source of the Angara River. Ice floe with an area of 60-150 square meters will be cut out of the frozen lake by a saw. All the participants embark on the "ship" and rafting begins. There is also a hovercraft as a tugboat and that also transport all the participants to the landing stage when rafting ends.

The whole activity takes from 1 to 1.5 hours. After this journey you will enjoy a real Siberian sauna (Banya) with fir branches besom and swimming in the ice hole! Some special surprises from the tour operator will be waiting for you!

After the sauna you will return to hotel.

Meals: Breakfast, lunch are included

4 more photos

Day 6 — Departure

Breakfast. Transfer to the airport.
Accommodation
Accommodation in a hotel and tourist bases is included in this tour:
2 nights in Hadarta Tourist Base (double/twin rooms);
1 nights in center of hunting and eco-tourism Talovskoe, (twin/triple rooms, toilet and shower on the floor,);
2 nights in hotel Krestovaya Pad (twin/double rooms, toilet in the room).
Supplement for single occupancy: 14,700 rubles per person.
Learn more about accommodation conditions when booking a tour.
Important to know
What additional activities are possible?

Are plane tickets included in the tour price?

Is insurance included in the tour price?
Baikal Ice Tour
Complexity
Without exercise
Included in price
meeting at the airport;
transfer to the airport;
rent of TREСOL, 3 days, 6 people per car;
rent of hover craft along the route Buguldeika - Listvyanka;
accommodation in Hadarta Tourist Base, center of hunting and eco-tourism Talovskoe and hotel Krestovaya Pad;
professional guide services during the whole route;
meals according to the program;
Baikal Museum visit;
excursion to the observation platform of "Cherskiy rock";
meeting with Siberian sled dogs;
ice floe rafting;
banya for 3 hours;
the impressions and emotions for the lifetime!
Paid extra
flights to Irkutsk and from Irkutsk;
alcohol and tobacco products;
dinner in Listvyanka;
meals not according to the program and extra excursions;
insurance.
What's included in the price?
Dates
Any dates on individual request
group dates

6 Feb – 11 Feb
8 Feb – 13 Feb
11 Feb – 16 Feb
Complexity
Without exercise
The most profitable tickets to Russia
Search for tickets of all airlines on BigCountry.Travel together with Jetradar!
Together with Jetradar
Any tour program on your request
We have more than 700 tours on our Russian website bolshayastrana.com. We can prepare any tour program in any region of Russia for your group or personally for you according to your wishes. We can provide a guide or an interpreter speaking your language, make visa invitations and organise high-quality and safe journey.
Leave your number and we will offer you the best options, taking into account all the wishes
Submitting a request you confirm that you have read the Privacy Policy