16 more photos
The impenetrable mountains of the Novaya Zemlya archipelago, the mysterious Franz Josef Land nature reserve are places where only the most passionate travelers have visited. Here, ice-covered mountain peaks rise majestically above the water. Here, polar bears walk through the endless icy deserts. On this journey, you will touch the untouched natural treasures of Russia.
Main impressions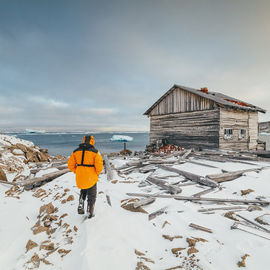 The Russian Arctic
Explore this rarely visited Arctic region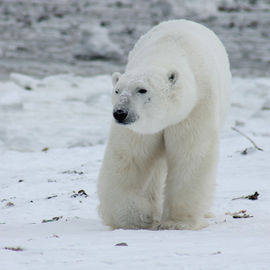 Arctic wildlife
Encounter iconic arctic wildlife, such as polar bears, walrus and seabirds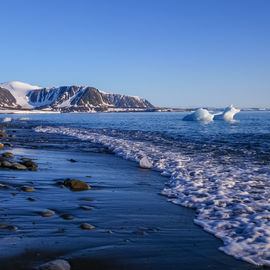 Novaya Zemlya
Explore glaciated land, where the earliest Arctic explorers overwintered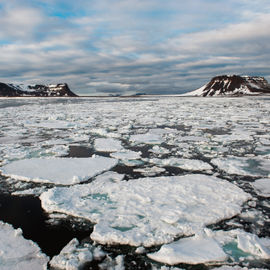 Franz Josef Land
Visit significant sites at Franz Josef Land and learn about the region's storied history
Route
Day 1 — Embarkation in Murmansk, Russia (Fly from Helsinki)

Our trip starts in Murmansk, Russia. Once aboard, get acquainted with the ship and crew and settle in for your voyage north.

2 more photos

Day 2 — At Sea

As we sail through the Barents Sea, your Expedition Team will prepare you for the adventures that await.

Learn about the storied history and politics of the region, its fascinating wildlife, geology, ecology and climate, and the incredible sights you will soon explore.

Staff will keep a lookout for seabirds, such as kittiwakes, skuas and fulmars soaring above your ship. Whale and seal sightings may also be possible in this biologically diverse sea.

2 more photos

Day 3 — At Sea

We continue sail through the Barents Sea.

2 more photos

Day 4 — Exploring Novaya Zemlya

The largest of the Eurasian arctic archipelagoes, the rarely visited Novaya Zemlya ("New Land") is the third-largest wilderness area in Europe. This seemingly long, narrow island actually consists of two main islands, Severny (northern) and Yuzhny (southern), separated by the imposing Matochkin Strait.

As we explore Novaya Zemlya, expect a new adventure every day. Each expedition will be unique, depending on the weather and ice, but a few landing sites we strive to visit include Inostrantseva Bay, the Oransky Islands, Cape Zhelaniya, Cape Spory Navalok and Russkaya Gavan.

2 more photos

Day 5 — Exploring Novaya Zemlya

Boasting one of the most picturesque glaciers in the entire archipelago, Inostrantseva Bay provides breathtaking panoramic views of pristine arctic wilderness.

If conditions allow, we may explore ashore, or Zodiac cruise along the face of the glacier, at a safe distance, possibly witnessing the wonders of calving ice. Encounters with Brünnich's guillemots (thick-billed murres) are likely, owing to a small colony in the coastal cliffs.

2 more photos

Day 6 — Exploring Novaya Zemlya

To the northwest side of Severny Island are the Oransky Islands. Wildlife abounds here, with a variety of animal and plant life to be discovered, Walrus have been sighted here on many previous expeditions. Coming across a walrus haul-out is unforgettable.

These giant pinnipeds of the Arctic create a raucous as each walrus vies for a choice spot of coastline. Encounters with whales and seabirds are possible, as well as polar bears, a genetically distinct subpopulation here.

A significant site in polar exploration, Novaya Zemlya also offers a number of opportunities for you to trace the footsteps of famous explorers and reflect on the region's history.

2 more photos

Day 7 — At Sea

Bid farewell to Novaya Zemlya as we cruise farther north to Franz Josef Land.

There are several activities to keep you engaged while at sea.

Attend presentations by your Expedition Team, relax in our polar library or simply spend some time on deck, admiring the sea.

2 more photos

Day 8 — Exploring Franz Josef Land

For the next four days we will explore the Franz Josef Land archipelago.

This remote group of 191 islands, many covered in ice, forms the most northerly archipelago in Eurasia and lies entirely within the Arctic Circle.

A nature reserve, it is part of the Russian Arctic National Park. Weather and ice conditions will shape our exploration, but we do hope to explore historical sites, remote seabird colonies and walrus haul-out at some notable destinations, such as Cape Flora, Cape Norway, Bell Island and Tikhaya Bukta.

Polar bear encounters are also possible.

2 more photos

Day 9 — Exploring Franz Josef Land

On Jackson Island, Cape Norway is where Norwegian explorers Fridtjof Nansen and Hjalmar Johansen wintered from 1895 to 1896.

The conditions were astonishingly difficult, but they survived until the summer and continued their journey south.

The remains of their small hut are still here today, along with a memorial marking the event.

2 more photos

Day 10 — Exploring Franz Josef Land

Exploring Tikhaya Bukta (Calm Bay), the site of an abandoned weather station on Hooker Island, will feel like stepping back in time.

There is plenty to discover as you wander the ruins, immersed in Russian polar history, and you may even be able to send a postcard from the post office!

2 more photos

Day 11 — Exploring Franz Josef Land

The Stolichky and Appolonov Islands offer plentiful walrus encounters, as the lumbering giants can be found hauled out here.

If ice and weather are in our favor, we'll explore the area by Zodiac, at a safe distance, to view these pinnipeds of the Arctic in their natural habitat.

2 more photos

Day 12 — At Sea

As your Arctic expedition winds down you have a couple of days to sail through this wildlife-rich sea, where whales of various species are often seen.

2 more photos

Day 13 — At Sea

Take in a presentation, reminisce about your incredible journey with your shipmates, relax in the lounge while swapping stories and photos or enjoy the solitude of the sea.

Expedition staff will be on hand to answer any remaining questions and spot wildlife.

2 more photos

Day 14 — Disembarkation Murmansk (Fly to Helsinki)

Returning to Russia's most northerly city.
Accommodation
Rates (If foreigners themselves arrive in the Russian Federation and then go on a cruise from Murmansk):
| | | |
| --- | --- | --- |
| Cabins | Price per person | Price per person* |
| Triple | $ 11 495 | $ 11 495 |
| Lower Deck Twin | Please ask | Please ask |
| Main DeckTwin Porthole | Please ask | Please ask |
| Main DeckTwin Window | $ 17 395 | $ 14 786 |
| Superior | $ 18 895 | $ 15 116 |
| Deluxe | $ 18 895 | $ 15 116 |
| Suite | $ 24 195 | $ 19 356 |
| Owner's Suite | $ 25 795 | $ 20 636 |
*Special offer for booking till 31.03.2022
If foreign tourists need an invitation for a visa to Russia – extra package required.
Mandatory transfer package includes:
one night's pre- and post-expedition airport hotel accommodation in Helsinki;
round-trip flights from Helsinki to Murmansk;
transfers to and from the ship in Murmansk.
Package price: $1,995.
Expedition ship «the Ocean Adventurer»
13 nights
Important to know
Are plane tickets included in the tour price?

Is insurance included in the tour price?
Jewels of the Russian Arctic: Cruise to Franz Josef Land and Novaya Zemlya
Complexity
Without exercise
Group meet at
Russia, Murmansk
Included in price
shipboard accommodation with daily housekeeping;
all meals, snacks, soft drinks and juices on board;
beer and house wine during dinner;
all shore landings per the daily program;
leadership throughout the voyage by our experienced Expedition Leader;
all Zodiac transfers and cruising per the daily program;
formal and informal presentations by our Expedition Team and special guests as scheduled;
photographic journal documenting the expedition;
waterproof expedition boots on loan for shore landings;
Official Quark Expeditions® parka to keep;
coffee, tea and cocoa available around the clock;
complimentary reusable water bottle;
hair dryer and bathrobe in every cabin;
comprehensive onboard materials, including a map and an informative Arctic Reader;
all miscellaneous service taxes and port charges throughout the program;
all luggage handling aboard the ship;
emergency evacuation insurance to a maximum benefit of US $500,000 per person;
Russian invitation letter for visa application provided after final payment.
Paid extra
international/domestic flights to Murmansk and back;
arrival and departure transfers in Helsinki;
passport and visa expenses;
government arrival and departure taxes not mentioned above;
meals ashore unless otherwises pecified;
baggage, cancellation, interruption and medical travel insurance —strongly recommended;
excess-baggage fees on international flights;
mandatory waterproof pants for Zodiac cruising, or any other gear not mentioned;
laundry, bar, beverage and other personal charges unless specified;
phone and Internet charges;
voluntary gratuity at the end of the voyage for shipboard staff and crew;
additional overnight accommodation.
The most profitable tickets to Russia
Search for tickets of all airlines on BigCountry.Travel together with Jetradar!
Together with Jetradar
Any tour program on your request
We have more than 700 tours on our Russian website bolshayastrana.com. We can prepare any tour program in any region of Russia for your group or personally for you according to your wishes. We can provide a guide or an interpreter speaking your language, make visa invitations and organise high-quality and safe journey.
Leave your number and we will offer you the best options, taking into account all the wishes
Submitting a request you confirm that you have read the Privacy Policy