20 more photos
We invite you on a cruise along the Volga with a visit to the wonderful cities of the Volga region! We start in St. Petersburg, go to Karelia, then enjoy the Volga scenery and finally cross the Volga-Don-Canal to the city of Rostov-on-Don in southern Russia.
Cities of call: St. Petersburg – Mandrogi – Kizhi Goritsy – Yaroslavl – Nizhny Novgorod – Cheboksary – Kazan – Ulyanovsk – Samara – Saratov – Volgograd – Rostov-on-Don.
Main impressions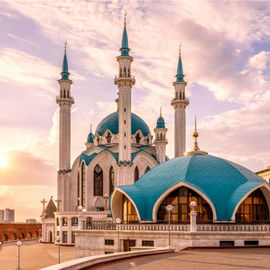 Kazan
Visit the place which connected Christianity and Islam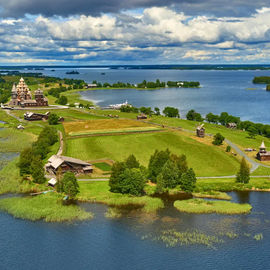 Kizhi Island
The island provides the most scenic destination on Russia's greatest waterway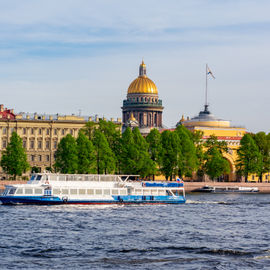 St. Petersburg
Visit one of the most beautiful cities in the world
Route
Day 1 — St. Petersburg

Day 2 — St. Petersburg city tour

St. Petersburg, one of the most beautiful cities in the world, is situated on the bank of the Gulf of Finland, in the delta of the river Neva. Created by Peter the Great to rival Venice, its 101 islands, 66 canals, and hundreds of bridges have secured its reputation as the most beautiful city in the country. 

It is the northernmost city in the world with a population of over four million. The Historic Centre of Saint Petersburg and Related Groups of Monuments constitute a UNESCO World Heritage Site.

Brief description of what you will see during city tour *(outside view): Nevski Prospect, Palace Square and Winter Palace+, Spit of the Vasilievsky Island, University Embankment, Main Building of the State St. Petersburg University, Admiralty, Senate Square, Monument to Peter the Great (Bronze Horseman), St. Isaac's Cathedral and St. Isaac's Square, Field of Mars+ and Summer Gardens+, Cruiser Aurora, Smolny Cathedral.

Departure at 20:00.

2 more photos

Day 3 — Mandrogi. Green stop

Arrival at 13:30.

In the village there are some structures built according to the Russian fine traditions of wooden architecture. Village dwellers meet the quests and organize something special for them. 

There is a museum of Russian Vodka where tourists can get acquainted with the history of Russian vodka industry (payment on the spot). Remeslennaya Sloboda, walking in the picturesque woods.

Departure at 17:00.

Day 4 — Kizhi

Arrival at 08:00.

Via the Volga/Baltic canal, our cruise takes us to the tiny island of Kizhi, located at the northern end of lake Onega. Renowned for its open-air Museum of Architecture assembled from various areas of the country and restored to form a glimpse of the past. 

The Transfiguration Church, with 22 domes, is the ultimate in Russian fairy-tale church architecture. Erected without a single nail or piece of iron, it was built only by chisel and ax.

Walking tour: Open-air Museum of Wooden Architecture.

Departure at 12:00.

Day 5 — Goritsy

Arrival at 13:00.

Kirillo-Belozersky Monastery.

Goritsy is a tiny settlement seven kilometers from the Kirillo-Belozersky Monastery. Visit what remains of the Nunnery of the resurrection on the banks of the Sheksna River in Goritsy, within a quarter of a mile of where the ship stop, will be interesting for any tourist with a real interest in Russian history.

Departure at 16:00.

Day 6 — Yaroslavl

Arrival at 14:00.

City tour with Church of Elijah the Prophet and Spassky Monastery.

Yaroslavl is situated at the confluence of the Volga and Kotorosl rivers. It is renowned for its numerous 17th-century churches and is an outstanding example of the urban planning reform Empress Catherine the Great ordered for the whole of Russia in 1763. 

While keeping some of its significant historic structures, the town was renovated in the neoclassical style on a radial urban master plan. It has also kept elements from the 16th century in the Spassky Monastery, one of the oldest in the Upper Volga region.

Departure at 17:30.

Day 7 — Nizhny Novgorod

Arrival at 15:00.

City tour.

Founded in 1221, this city was a famous meeting place where people from the Orient, Siberia and Turkistan came to barter and trade. Formerly named Gorki, it was later home of political exiles and therefore closed to outsiders for many years. 

Nizhny Novgorod has only recently opened its doors for visitors, where many well-preserved memorials from the 13th and 14th centuries are found. Of special interest is the ancient Kremlin cathedrals, convents and the palace of the early ruling family.

Departure at 20:00.

Day 8 — Cheboksary

Arrival at 10:00.

City tour.

The city of Cheboksary is located on the banks of the majestic Volga River in the Republic of Chuvashia. 

Like many cities in the Volga region, it was founded in the region of the XV-XVI centuries, or rather, in 1469 by the governor Ivan Runa, who noted the advantageous advantages of this place and ordered to establish a settlement here. 

In the future, it was through this place that the main trade routes began to pass, so it is not surprising why the city gradually turned into a major cultural and social center. 

Today Cheboksary is a modern city with its own architecture and a number of monuments, not to mention numerous museums and other interesting places.

Departure at 19:00.

Day 9 — Kazan

Arrival at 08:00.

City tour with Kremlin (Kul Sharif Mosque, Annunciation Cathedral).

Kazan is the capital of Tatarstan Republic. It is one of the most important economic, scientific and cultural centers of the country. 

According to the official version, Kazan was founded no less than 1000 years ago. Kazan was founded as an outpost on the northern borders of Volzhkaya Bulgaria. In the 13th-14th centuries, Kazan rapidly developed and became an important center of the Golden Horde. 

In 1438, Kazan was declared the capital of the Kazan Khanate. There were several conflicts with the Moscow state and as a result the town was conquered by the Russian Tsar Ivan the Terrible.

Departure at 18:00.

Day 10 — Ulyanovsk

Arrival at 08:00.

City tour.

Ulyanovsk (in 1648-1780 - Sinbirsk, in 1780-1924 - Simbirsk) is a city in the European part of Russia, the capital of the Ulyanovsk region, standing on Privolzhsky hill, on the banks of the Volga River and the Sviyaga River. 

Informal name of the city: Aviation Capital of Russia. Ulyanovsk can rightly be called a city of museums. Numerous museums offer exhibitions about the city's history, culture and architecture. 

The history of several museums has its origins in the distant past, when Simbirsk scholars and merchants collected and presented to their hometown great cultural and scientific heritage.

Departure at 18:00.

Day 11 — Samara

Arrival at 08:00.

City tour.

Samara (Kuybyshev in 1935-1991) is a large city in Russia, the center of the Volga economic region and the capital of the Samara region, standing on the left high bank of the Volga River, in the place of its confluence with the Samara River (hence the name of the city). It is a major economic, transport, scientific, educational, and cultural center of the country. 

There are a lot of various historical buildings in Samara which make the city precious from the architectural point of view. Samara Embankment, the longest in Russia (about 5 km), is one of the main sights of the city.

Departure at 13:00.

Day 12 — Saratov

Arrival at 10:30.

City tour with Sokolov's Hill.

Present Saratov combines the architecture of an old merchant town and modern city. At the same time, it is a city of universities, theaters, and museums. The historical center of Saratov consists of a number of buildings constructed in the late 19th - mid-20th centuries. 

On the famous Cosmonauts Embankment of Saratov, you can enjoy the beauty of the Volga River and will be able to walk over the bridge "Saratov-Engels". Chernyshevskogo Street is the longest street in Saratov stretching for 7 km along the Volga. The oldest building in the city is Holy Trinity Cathedral.

Departure at 14:00.

Day 13 — Volgograd

Arrival at 09:00.

City tour with Mamaev Kurgan.

Volgograd, formerly Tsaritsyn and Stalingrad is an important industrial city and the administrative center of Volgograd Oblast, Russia. It is 80 kilometers (50 mi) long, north to south and is situated on the western bank of the Volga River, after which the city was named. 

The city became famous for its resistance during the Battle of Stalingrad against the German Army in World War II. It is often regarded as the largest and bloodiest battle in the history of warfare.

Departure at 14:00.

Day 14 — Sailing

Day 15 — Rostov-on-Don

Arrival at 15:30.

City tour.

The southernmost part of Russia's Steppes was an 18th century Cossack outpost and trading center. 

Today this "Gateway to the Caucasus" leads to the Ukraine and is an industrial and agricultural center. Its magnificent parks and beaches, theaters and museums, and unusual botanical gardens with vast collections of rare and beautiful plants make Rostov a most attractive city on the Don River.

Day 16 — Rostov-on-Don
Accommodation
M/s «Volga Star»
 This classical river vessel, built in Germany in 1983 and completely refurbished in winter 2011, is a well ‒ run motor ship and the ideal size for river voyage on Russian Waterways. During its refurbishing according to the highest European standards, special efforts were made to create maximum comfort. 
All cabins are outside (with the exception of the lower deck) and have a promenade walkway outside the cabin and large picture window which can be opened (with the exception of the lower deck). Every cabin has a private bathroom, individual air conditioning\heating control, radio and wardrobe. Outside you will find spacious decks with loungers, chairs, and tables. 
All these luxuries will allow you to admire the beauty of the river's landscapes. The staff on board offers friendly and efficient service to make you feel as comfortable as at home.  
You will be pleasantly surprised by the level of comfort in the air ‒ conditioned public areas affording majestic views of the passing countryside such as a Reading Room, a Conference Hall and two onboard bars. In addition, there is a souvenir shop, doctor's office, beauty salon and laundry service. 
You will be impressed with the level of service and food quality of our two delightful dining rooms offering both  ‒  Continental and Russian cuisine as well as specialties of the surrounding regions. Traditional entertaining programs include evenings filled with live concerts, dancing, quizzes, lectures on Russian history and traditions conducted by experienced licensed guides.
Technical characteristic
Length 
129,1 m
Breadth
16,7 m
Draught
2,9 m
Passenger capacity 
208
Main engines
3*736 kW.
Speed 
25,5 km/h
Type
302
Built 
1983, Germany
Renovation 
2011
Total number of cabins 102:
Suite cabins
2
Junior Suite cabins
34
Twin Comfort cabins
32
Twin Standard cabins
32
Quad Standard cabins
2
Total passenger capacity is 206 persons.
Prices for cruise STP – ROV per person per night in euro:
| Type of cabin | €/pax |
| --- | --- |
| Suite boat deck | 235 |
| Junior Suite boat deck | 190 |
| Twin Comfort boat deck | 145 |
| Twin Standard boat deck | 130 |
| Junior Suite upper deck | 180 |
| Twin Comfort upper deck | 130 |
| Twin Standard upper deck | 120 |
| Junior Suite main deck | 170 |
| Twin Comfort main deck | 120 |
| Twin Standard main deck  | 115 |
Single Supplement – 70% per pax per night rate.
Port & Fuel charge – 70 euro per person per cruise.
3 more photos
Suite or Junior Suite or Standard premium/comfort or Standard
15 nights
Important to know
Are plane tickets included in the tour price?

Is insurance included in the tour price?
Volga River Cruise from St. Petersburg to Rostov-on-Don
Complexity
Without exercise
Group meet at
Russia, Saint Petersburg
Included in price
accommodations in all outside cabins, each with private bathroom facilities, individual temperature control and large picture window;
three meals (breakfast, lunch and dinner) per day in the ship's restaurant with the same menu for all passengers irrespective of cabin category; meal service begins with dinner on day of embarkation and ends with breakfast on day of disembarkation;
captain's welcome Cocktail Reception;
gala farewell Dinner aboard;
full sightseeing programs in each of the ports of call;
luggage handling to/from the ship;
lectures, provided by our guides;
Russian language and song lectures;
nightly entertainment and dancing;
ENGLISH/GERMAN speaking guide only;
daily aerobics;
orthodox cruise director and staff.
Paid extra
plane and train tickets to St. Petersburg and from Rostov-on-Don;
baggage: excess baggage, forwarding of  baggage/ souvenirs;
luggage handling in the airport;
insurance;
visas;
gratuities: gratuities for Cruise director, ship's crew members, guides and drivers are not included and are at passenger's discretion;
private transfers;
miscellaneous: Items of a personnel nature  such as laundry, bar charges, beauty salon,
telephone cable charges and medical services are not included.
The most profitable tickets to Russia
Search for tickets of all airlines on BigCountry.Travel together with Jetradar!
Together with Jetradar
Any tour program on your request
We have more than 700 tours on our Russian website bolshayastrana.com. We can prepare any tour program in any region of Russia for your group or personally for you according to your wishes. We can provide a guide or an interpreter speaking your language, make visa invitations and organise high-quality and safe journey.
Leave your number and we will offer you the best options, taking into account all the wishes
Submitting a request you confirm that you have read the Privacy Policy